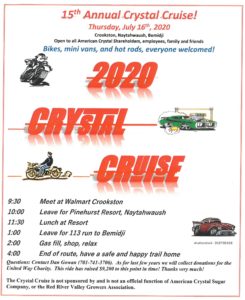 15th ANNUAL CRYSTAL CRUISE
Thursday July 16th, 2020
Questions: Contact Dan Gowan 701-741-3706
9:30 Meet at Walmart Crookston
10:00 Leave for Pinehurst Resort, Naytahwaush
11:30 Lunch at Pinehurst Resort
1:00 Leave for 113 mile run to Bemidji
2:00 Gas fill, shop, relax
4:00 End of route, safe & happy trail home
Bikes, mini vans, & hot rods, everyone welcomed!
Donations for the United Way Charity will be collected.
This ride has raised $9,200 at this point in time.
THANK YOU!
Crystal Cruise is not sponsored by & is not an official function of American Crystal Sugar or the Red River Valley Sugarbeet Growers Association.